Lawyer / Senior Manager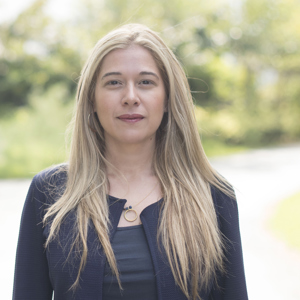 Elli joined CPA Law in 2017. She is a Lawyer/Senior Manager in our Firm, specialized in European and Public law, especially in administrative and tax law.
She is member of the Athens Bar Association and practices law before the Supreme Courts of all jurisdictions. She has extensive experience in litigation services as well as in dispute resolution of pre-litigation procedures. She has significant experience in tax and international tax law and she is engaged in tax litigation and advisory services (income tax, tax audits, Double Tax Treaties, tax evasion and tax avoidance, administrative and court appeals, etc.).
She has also a wide experience in specialized issues, such as the exchange of information and administrative cooperation in the field of taxation (spontaneous exchange, exchange of information on request, automatic exchange of financial accounts, mandatory disclosure rules for reportable cross-border arrangements), the compliance with the regulatory framework of Anti-Money Laundering/Financing Terrorism (due diligence, administrative penalties, audits by the Greek Financial Intelligence Unit and the supervisory Competent Authorities) as well as the transparency on ultimate beneficial owners (identification, UBO Registers, tax implications).
She is also specialized in Public and Administrative Law and she is engaged in litigation and advisory services to individuals and legal entities. During her professional experience, she has represented a multitude of individuals and legal entities and has dealt with companies and entities of Public Sector. She has also served as Chairman of Appeals Committee of National Cadastre & Mapping Agency S.A.
Practice areas
Public Law
Tax Law
EU Law
Litigation
Qualifications
Master of Laws (LL.M), in "Law & European Integration" (option: Public Law), Panteion University of Social and Political Sciences, General Department of Law, Athens
Postgraduate Course in Tax Law, Research Centre (ΚΕΔΙΒΙΜ) of Athens University of Economics and Business
Degree in Law (LL.B), National & Kapodistrian University of Athens, Law School
Languages
Greek (native)
English
French
Spanish
German
Motto
"Agreements and laws are needed to join rights to duties and relate justice to its object. In the state of nature where everything is common, I don't owe anything to someone to whom I haven't promised anything; I recognize as belonging to others only what is of no use to me. It is not like that in the state of society, where all rights are fixed by law"
Jean-Jacques Rousseau, The Social Contract, 1762